Franchise Business Review Names Supporting Strategies a Top Franchise for Veterans
Independent Research Data Shows Veteran Franchise Owners Highly Satisfied with Supporting Strategies' Performance
Beverly, MA – Supporting Strategies has been recognized by independent research firm, Franchise Business Review, as being one of a select group of brands to be named an award-winning franchise in its 2021 report on the Top Franchises for Veterans.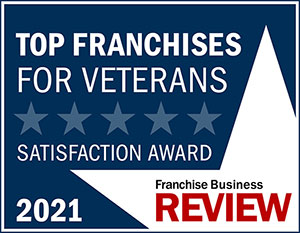 Supporting Strategies offers a home-based business model that provides outsourced bookkeeping and controller services to small and mid-sized businesses. Supporting Strategies has developed a proven, scalable business model with highly automated systems and streamlined processes to deliver cost-effective bookkeeping services. With a low overhead and variable cost delivery model, franchisees realize closely matched costs to revenue and average a gross profit margin of 40%.
Franchise Business Review, a market research firm that performs independent surveys of franchisee satisfaction, provides the only ranking of franchises based solely on actual franchisee satisfaction and performance. Franchise Business Review publishes rankings of the top franchises in its annual Guide to Today's Top Franchises, as well as guides throughout the year ranking the top franchises in specific sectors.
To identify the companies on the list of the best franchises for veterans, Franchise Business Review analyzed data from over 2,500 franchise owners, representing nearly 280 brands regarding their overall satisfaction with their brands and their likelihood to recommend them to others.
Supporting Strategies' franchisees were surveyed on 33 benchmark questions about their experience and satisfaction regarding critical areas of their franchise systems, including training & support, operations, franchisor/franchisee relations, and financial opportunity.
"Franchising needs more business owners with the leadership skills and resilience of veterans, but the reality is that very few of the thousands of franchise opportunities available today are rated highly by their franchise owners," said Eric Stites, founder & CEO of Franchise Business Review. "We are committed to helping prospective franchisees get an objective view of the best franchise opportunities, based on the actual performance and satisfaction of franchise owners. The 80 companies named in this year's report on the Top Franchises for Veterans received the highest ratings from the veterans who own them on our independent satisfaction survey."
Supporting Strategies' survey data showed strong results in the following areas:
Overall franchisee satisfaction

Team culture and leadership

Core values as a company

Franchise community support
"We are pleased that veterans value the opportunity a franchise like Supporting Strategies offers them once their military service is complete. Our veteran franchise owners are very important to us and we are grateful they have ranked the Supporting Strategies opportunity so highly," says Leslie Jorgensen, CEO and Founder, Supporting Strategies.
Visit www.FranchiseBusinessReview.com to see the full description of the 2021 Top Franchises for Veterans.
###
About Supporting Strategies
Supporting Strategies provides outsourced bookkeeping services, controller services and operational support to growing businesses. Since 2004, our locally owned and operated offices have served thousands of companies, helping business leaders free up their time, focus on their core competency and streamline their businesses. Our experienced, U.S.-based professionals use secure, best-of-breed technology and a proven process to deliver a full suite of services, including accounts payable, accounts receivable, bookkeeping, financial analysis, payroll administration and more. For more information, please visit supportingstrategies.com.
About Franchise Business Review
Franchise Business Review (FBR) is a leading market research firm serving the franchise sector. FBR measures satisfaction and engagement of franchisees and publishes various guides and reports for entrepreneurs considering an investment in a franchise business. Since 2005, FBR has surveyed hundreds of thousands of franchise owners and over 1,100 leading franchise companies. To read our publications, visit https://franchisebusinessreview.com/page/publications/. To learn more about FBR's research, please visit www.FranchiseBusinessReview.com
Media Contacts:
Supporting Strategies
Erica Mitchell
Director of Marketing Programs
[email protected]
(617) 831-1404
Franchise Business Review
Ali Forman
Marketing Director
603.319.4818
[email protected]
https://www.supportingstrategiesfranchise.com/wp-content/uploads/2022/05/FBR_Veterans_2021_300.jpg
233
300
Leslie Jorgensen
https://www.supportingstrategiesfranchise.com/wp-content/uploads/2022/06/Supporting-Strategies-Franchise.png
Leslie Jorgensen
2021-10-22 20:31:26
2022-06-30 09:05:15
Franchise Business Review Names Supporting Strategies a Top Franchise for Veterans