A Franchise That's Right at Home in a Remote World
In March, states across the nation issued emergency orders requiring all non-essential businesses to close their doors in response to the COVID-19 outbreak. Many organizations weren't prepared for abrupt shutdowns of unknown length.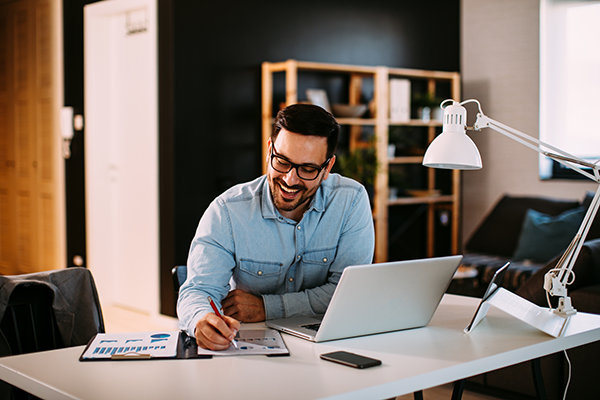 Business owners subsequently scrambled to come up with contingency plans. They tried to figure out ways to retrieve financial records and other vital information stored in their offices. And they had to answer nonstop questions from concerned employees and clients about how the order would impact them. Since then, it's been a time of deep uncertainty and distress.
For Us, It's Been Business as Usual
You know what Supporting Strategies franchisees did in response to various shutdown measures? Nothing. They were already working from home using cloud-based software. So was everyone else in our organization, from our CEO to employees throughout our 100+ locations.
A remote workforce has been central to the Supporting Strategies business model since our founding in 2004. In fact, last October, Flexjobs listed us among their top 20 remote employers in the country.
Among other things, having a 100% remote workforce means none of our clients have had to fret about getting their bookkeeping done during the pandemic — including those scrambling to gather the financial information necessary to apply for emergency funding through the CARES Act. This crisis has reinforced the wisdom of our method of operation and strengthened our credibility with clients.
Searching for Stability
No one knows how long the current restrictions brought on by COVID-19 will last or whether a second wave of infections will trigger more lockdowns in the future. What we do know is that businesses with forward-thinking leadership and a pandemic-resistant business model are more likely to enjoy long-term success.
If you're looking to start a business that has significant growth potential and is built to survive in the "new normal," a Supporting Strategies franchise may be the perfect fit. To learn more about this opportunity, contact us today.
https://www.supportingstrategiesfranchise.com/wp-content/uploads/2022/05/Happy-businessman-working-from-home-with-financial-papers-and-laptop.png
400
600
Steve Schultz
https://www.supportingstrategiesfranchise.com/wp-content/uploads/2022/06/Supporting-Strategies-Franchise.png
Steve Schultz
2020-06-04 16:30:00
2022-06-30 09:05:17
A Franchise That's Right at Home in a Remote World